WHAT HAPPENED TO SIMONE BILES?
Simone Biles, one of the greatest female gymnasts of all time, who has used her influence to speak out against injustices, arrives at her second Olympics prepared to soar, but… had a mental health issue in Tokyo, which prompted her to pull out of Olympic all-around finals. Some have suggested that Biles' ADHD or Attention-Deficit/ Hyperactivity Disorder could be to blame. The USA Gymnastics organization released a statement, saying, "After a further medical evaluation, Simone Biles has withdrawn from the final individual all-around competition. We wholeheartedly support Simone's decision and applaud her bravery in prioritizing her well-being. Her courage shows, yet again, why she is a role model for so many."
Simone Biles returned to the Olympics with a strong finish on Tuesday, July 29th. She won bronze in the balance beam finals.
Although, Biles shocked the world last week when she decided to pull out of the team event finals at the Tokyo Olympics and then withdrew from the individual all-around competition, as well as the vault, uneven bar, and floor finals, to focus on her mental health. It birthed a worldwide discussion about mental health awareness and management. But, it also gave rise to some questions, including what sparked Biles' case of "the twisties."
SIMONE BILES'S ADHD
As we already mentioned, a 24-year-old gymnastics legend, whose motto on her official website is "Don't Flip Out," withdrew from the finals of the team competition in Tokyo on July 27, 2021.
Some have suggested that Biles' ADHD or Attention-Deficit/ Hyperactivity Disorder could be to blame. It's a reasonable conclusion given that Japan baned most of the medicines commonly used to treat this mental disorder in the US. However, it's also worth noting that Japan allows certain non-stimulant ADHD drugs, according to Team USA.
The day before it was announced that Simone Biles would return to the Olympics competition in Tokyo, a social media post suggested that she had earlier withdrawn because she was prevented from taking medication for attention-deficit hyperactivity disorder. A tweet shared on Facebook says of the six-time Olympic medalist: "So they didn't allow Simone to take her ADHD medication because it was considered a substance then become surprised when she's unable to focus and is fearful of making a bad move on the floor."
There are no statements from Biles or on her behalf regarding whether she was taking ADHD medication leading up to the Tokyo Games. There is no evidence that she was prohibited from taking any medication in Tokyo. But, let's get into the details. Biles and other Olympic athletes may have benefitted from an exception to the rule. "A special arrangement is in place specifically for the Tokyo 2020 Olympic to allow athletes taking these medicines for therapeutic use, and with an approved Therapeutic Use Exemption, to import personal supplies for the treatment of their medical condition while they are in Japan," a document provided via Team USA says.
USA Gymnastics said that in Tokyo, Biles had to withdraw due to a medical issue. In addition, team USA said she had "mental struggles."
Biles initially said she withdrew to work on her "mindfulness," alluding to stress and saying she puts "mental health first."
Later, Biles said she withdrew because of the "twisties," which she described as a dangerous condition that prevents her from doing certain maneuvers in mid-air. In addition, she said that her "mind and body are simply not in sync" and "physical health is mental health.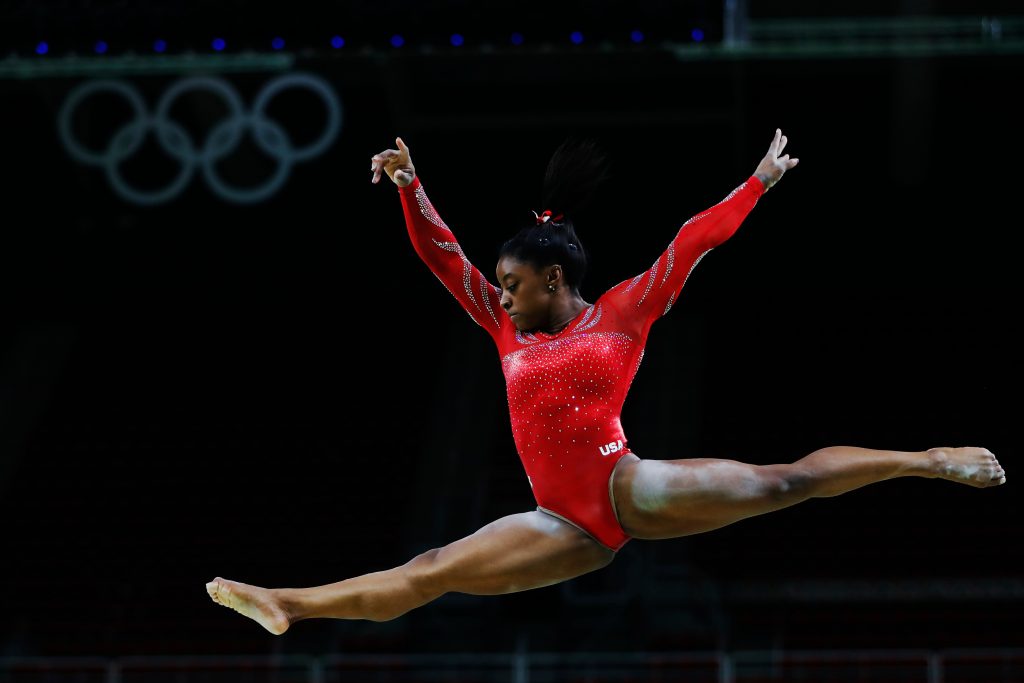 WHAT IS ADHD?
Attention deficit hyperactivity disorder (ADHD) is a mental health disorder that can cause above-normal levels of hyperactive and impulsive behaviors. People with ADHD may also have trouble focusing their attention on a single task or sitting still for long periods of time. Both adults and children can have ADHD. A wide range of behaviors is associated with ADHD. Some of the more common ones include:
having trouble focusing or concentrating on tasks
being forgetful about completing tasks
being easily distracted
having difficulty sitting still
interrupting people while they're talking
SIMONE BILES'S STAND AGAINST ADHD STIGMA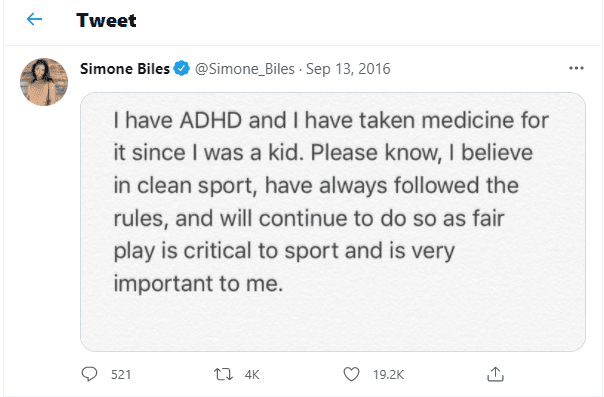 In 2016 Simone Biles had to disclose personal information about her health and confirm that she has ADHD.
After hackers circulated confidential medical records from the World Anti-Doping Agency database and tried to use Biles' prescription medication to question her credentials, Simone Biles flipped the script and used the leak to send a powerful message about stigma, mental health, and sports. Simone Biles's Stand Against ADHD Stigma by saying, "I have ADHD, and I have taken medicine for it since I was a kid."
RITALIN AND ADCD BEING LINKED TO SIMONE BILES's STRUGGLES AT TOKYO OLYMPICS
Ritalin and ADHD were being linked to Simone Biles's struggles at Tokyo Olympics. It happened for a reason. An illegal release of some high-profile athletes' medical data back in 2016 showed Biles had tested positive for methylphenidate – the official name for Ritalin, a common medication for treating ADHD. The situation led the then-19-year-old star to address her ADHD diagnosis publicly and say she's taken the medication since she was a child to manage her symptoms.
SIMONE BILES'S QUOTES
Instagram, 2015
"Work hard in silence let your success be the noise"
USA Today, 2016
On getting competition experience: "A successful competition for me is always going out there and putting 100 percent into whatever I'm doing. It's not always winning … People, I think, mistake that it's just winning. Sometimes it could be, but for me it's hitting the best sets I can, gaining confidence and having a good time and having fun."ADVERTISING
Teen Vogue, 2016
On finding joy: "If I thought of gymnastics as a job, it would put too much stress on me … At the end of the day, if I can say I had fun, it was a good day."
On her body, and working through self-consciousness: "I was built this way for a reason, so I'm going to use it."https://257c34bf1ea11fd7414d2bd431f2ae17.safeframe.googlesyndication.com/safeframe/1-0-38/html/container.html
On hoping to contribute to a group gold: "The team comes first."
The Rio Olympics, 2016
On her performance: "I'm not the next Usain Bolt or Michael Phelps … I'm the first Simone Biles."
Twitter, 2018
In a tweet disclosing her abuse: "After hearing the brave stories of my friends and other survivors, I know that this horrific experience does not define me. I am much more than this. I am unique, smart, talented, motivated, and passionate. I have promised myself that my story will be much greater than this and I promise all of you that I will never give up … I won't let one man, and the others that enabled him, to steal my love and joy."
Vogue, 2020
On not doing mat talk: "[In gymnastics,] you're taught at a very young age to just focus on you. Whenever you're up there, it feels like it's just you, your team, and your equipment. Before I go out and compete, my mom always says 'be the best, Simone,' but other than that, there's nothing special that I do. I'm just myself."
Vogue, 2020
Speaking to young women who look up to her: "No matter how good you are in your sport, in life, in work, the number one thing people talk about is how you look … You're still going to thrive. You're going to become somebody amazing and great. You guys are all beautiful, inside and out."
"Growing up, I didn't see very many Black gymnasts … So whenever I did, I felt really inspired to go out there and want to be as good as them. I remember watching Gabby Douglas win the 2012 Olympics, and I was like, If she can do it, I can do it."
On holding gymnast officials accountable: "Personally, for me, I don't think of it as an obligation … I think of it as an honor to speak for the less fortunate and for the voiceless. I also feel like it gives them power."
"We can't feel comfortable promoting our sport if we fear that something might happen like this again because they're not doing their part. And the hardest part for us is we've always done our part. We've always represented the U.S. to the best of our ability, and all the time, most of the time, every time I've represented, come back with gold medals. It's like: We've done our part. Come on."
New York Times, 2021
Discussing going to the Olympics after speaking out about her abuse: "I'm going to go out there and represent the U.S.A., represent World Champions Centre, and represent Black and brown girls over the world…At the end of the day, I'm not representing U.S.A. Gymnastics."
Marie Claire, 2021
On her GOAT leotard: "I just hope that kids growing up watching this don't or aren't ashamed of being good at whatever they do. And that's my problem: when people kind of harp on other people that are good at something. And it's like, everybody can say you're good, but once you acknowledge it, it's not cool anymore. And I want kids to learn that, yes, it's okay to acknowledge that you're good or even great at something."
Tokyo Olympics, 2021
On pulling out of the team final: "I have to put my pride aside. I have to do what's right for me and focus on my mental health and not jeopardize my health and well-being. That's why I decided to take a step back."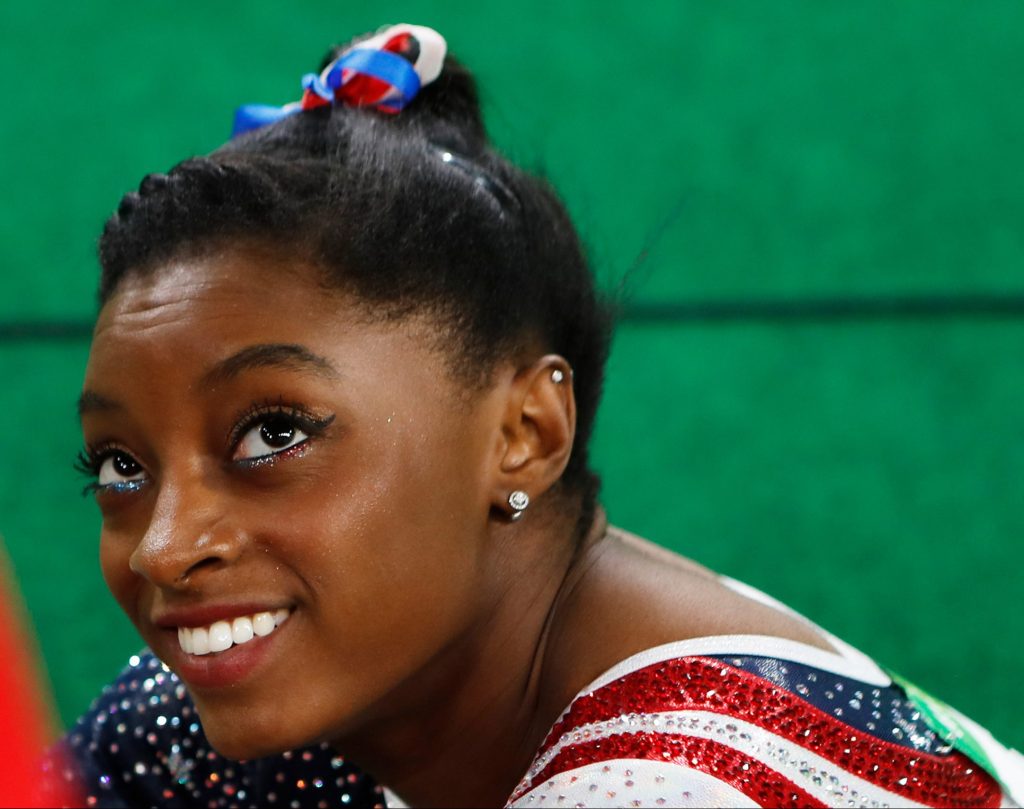 CONCLUSIONS
While the laws in Japan are extremely stringent when it comes to stimulants, they're slightly more lax about psychotropics, the class of drugs under which Ritalin is categorized. Athletes and non-athletes alike can apply for a Yakkan Shoumei – an "import certificate" allowing for the import of some otherwise prohibited drugs – that permits them to bring up to 2.16g of their methylphenidate into the country. If she filled out and submitted a Yakkan Shoumei, Biles was covered to continue taking Ritalin in Tokyo without fear of arrest. So while it's impossible to determine what has caused Biles' case of "the twisties," a lack of medication is almost certainly not to blame.
It looks like the weight Simone Biles carried as the face of the sport and the face of the nation had become a real issue and burden. It's unclear whether we'll ever see Biles in an Olympic game again. But no matter what she decides to do with the rest of her career, one thing is certain: By prioritizing her mental health and safety, and in turn, encouraging other athletes to do the same, Simone Biles remains the greatest gymnast of all time.
ADHD lasts into adulthood for at least one-third of children with ADHD. Treatments for adults can include medication, psychotherapy, education or training, or a combination of treatments. If you have ADHD, you may be unpredictable and forget appointments, miss deadlines, and make impulsive or irrational decisions. These behaviors can strain the patience of the most forgiving co-worker, friend, or partner. Therapy that focuses on these issues and ways to better monitor your behavior can be very helpful. Couples therapy may significantly improve your relationships. Call us today!
Disclaimer: Our goal is to improve the quality of life for people struggling with substance use or mental health disorder by publishing engaging and educational content about the nature of behavioral health conditions, treatment options, and their related outcomes. The information we provide should not be treated as professional advice, is not intended to be a substitute for professional medical diagnosis or treatment. It should not be used in place of the advice of your physician or another qualified healthcare provider.
FREE ONLINR ADHD TEST IN 5 MIN
Attention deficit hyperactivity disorder (ADHD) is a common neurodevelopmental condition that can affect how you think, process emotions, and respond to your environment. Though this condition is commonly diagnosed in children and teens, it can be diagnosed in adults, too. Not everyone has the same symptoms or experiences ADHD in the same way. ADHD can look different for everyone. For example, symptoms of ADHD in children might look and feel different than in adults. Your symptoms will also depend on the type of ADHD you have. The major symptoms of ADHD include inattention and hyperactivity or impulsivity.
WHO IS THIS ADHD TEST & SELF-ASSESSMENT FOR?
This simple assessment is for adults who think they may have symptoms of attention deficit hyperactivity disorder (ADHD). Please read each question carefully, and indicate how often you have experienced the same or similar challenges in the past few months.
HOW ACCURATE IS THIS ADHD TEST & SELF-ASSESSMENT?
This quiz is NOT a diagnostic tool. Mental health disorders can only be diagnosed by qualified mental health professionals.
We believe assessments can be a valuable first step toward getting treatment. All too often people stop short of seeking help out of fear their concerns aren't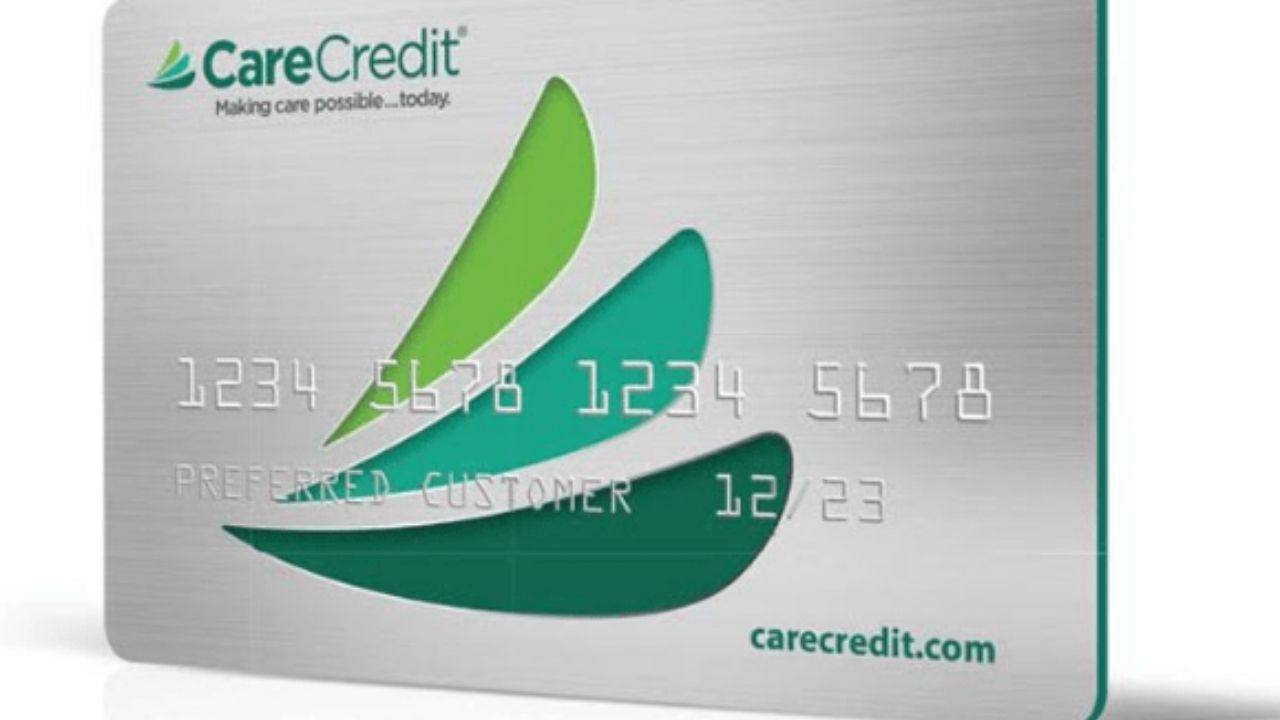 At Lifescapre Recovery, we are dedicated to helping people transform their lives. We have financing programs available to make sure nothing stands in the way to have the opportunity to receive the treatment you need. We offer a healthcare financing program through CareCredit, to assure that as many people as possible can begin the path to healing and once again lead productive lives. CareCredit is a unique lender in the field of medical loans. Under state law, providers in CA may not submit credit applications on behalf of others. Instead, individuals can apply for CareCredit directly. The process is quick and easy. You will receive an immediate credit decision, and you can save time and effort. Apply online using our custom link
Apply by phone at: Call 800-365-8295
Published: March 15, 2022
Last Updated: November 07, 2023