THE MOST EFFECTIVE ALCOHOLISM TREATMENT
Alcoholism, clinically referred to as alcohol use disorder (AUD), is when people abuse alcohol or are dependent on it. Alcoholism is a chronic disease characterized by uncontrolled drinking and preoccupation with alcohol. Alcoholism is the inability to control drinking due to physical and emotional dependence on alcohol. Symptoms include a strong need or urge to use alcohol. Those with alcohol use disorder may have problems controlling their drinking, continue to use alcohol even when it causes problems, or have withdrawal symptoms when they rapidly decrease or stop drinking. Treatment involves medications, counseling, and therapy that reduce the desire to drink. Some people need medical detoxification to stop drinking safely.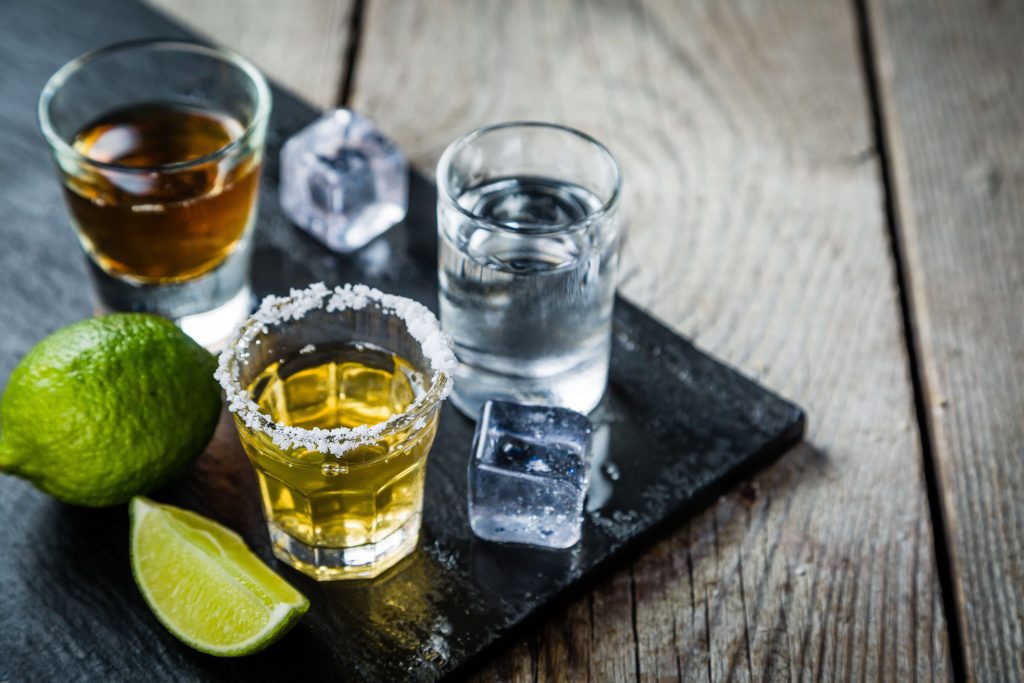 WHEN SHOULD I SEEK TREATMENT?
The good news is that no matter how severe the problem may seem, most people with AUD can benefit from some treatment. Before starting the treatment process, a person must first recognize their condition and have the desire to quit drinking. Sometimes, an individual may acknowledge they have a drinking problem. Other times, family members or friends may stage an alcohol intervention. This involves loved ones expressing concerns about the person's excessive drinking patterns. An intervention also helps start the discussion about available treatment and support options.
Some alcoholism warning signs family members and friends may watch for are:
Frequent binge drinking
Perpetual shifts in mood
Poor performance at work or school
Excuses for neglecting responsibilities
Denial of excessive alcohol use
Acts of violence or crime
Decreased interest in hobbies
There is no right or wrong time to seek treatment for an AUD. However, if left untreated, alcoholism can trigger a wide range of additional problems, such as health complications, financial troubles, relationship issues, and professional disruptions. The sooner you or a loved one gets help, the greater the chance for lasting sobriety.
WHAT MEDICATIONS ARE USED TO TREAT ALCOHOLISM?
Alcoholism treatment involves medications, counseling, and therapy that reduce the desire to drink. Some people need medical detoxification to stop drinking safely
Medications can help patients quit drinking, treat alcohol withdrawal symptoms, and prevent relapse. Patients may also receive different medications while in the care of an addiction treatment professional to help address symptoms of co-occurring disorders if necessary. Some of the medication patients may receive ONLY in the care of an inpatient or outpatient treatment provider.
Naltrexone can help reduce the urge to drink and help to curb the problem of drinking. It blocks the receptors in the brain that make people feel good when they drink, and it may help to reduce cravings.
Acamprosate (Campral) is designed to decrease cravings and urges to drink alcohol.
Disulfiram (Antabuse) discourages people from drinking. It blocks the metabolism of alcohol in a person's body so that they experience unpleasant symptoms, like nausea, if they decide to drink.
TYPES OF ALCOHOLISM TREATMENT
You have to choose the type of treatment that's best for you: inpatient (you would stay at a facility) or outpatient (you stay in your home during treatment). Inpatient facilities tend to be more intensive but costly. Cost may be a factor when selecting a treatment approach. Evaluate the coverage in your health insurance plan to determine how much of the costs your insurance will cover and how much you will have to pay. Ask different programs if they offer sliding scale fees—some programs may offer lower prices or payment plans for individuals without health insurance.
Inpatient alcoholism treatment
Alcohol Detox
Detoxification is the initial step in treating alcoholism and can be the most difficult. Within the first few days after you quit drinking, you may experience extremely uncomfortable withdrawal symptoms. Because of this, the alcohol detox stage should only be completed under professional medical care. Treatment professionals will also be able to provide you with medication to help ease the pain. This allows you to focus on getting better. After detox, you will be able to move forward with other forms of treatment and therapy.
Inpatient Rehab
An inpatient rehab facility is the most structured treatment environment for those overcoming alcoholism. Generally, these rehabs are geared toward treating the most severe forms of alcoholism and require individuals to remain on-site for the duration of the program – 30, 60, or 90 days. Treatment professionals provide around-the-clock care and will prepare you for life after rehab. This may include information on how to overcome triggers, the importance of sobriety maintenance programs, and what to do in the event of a relapse.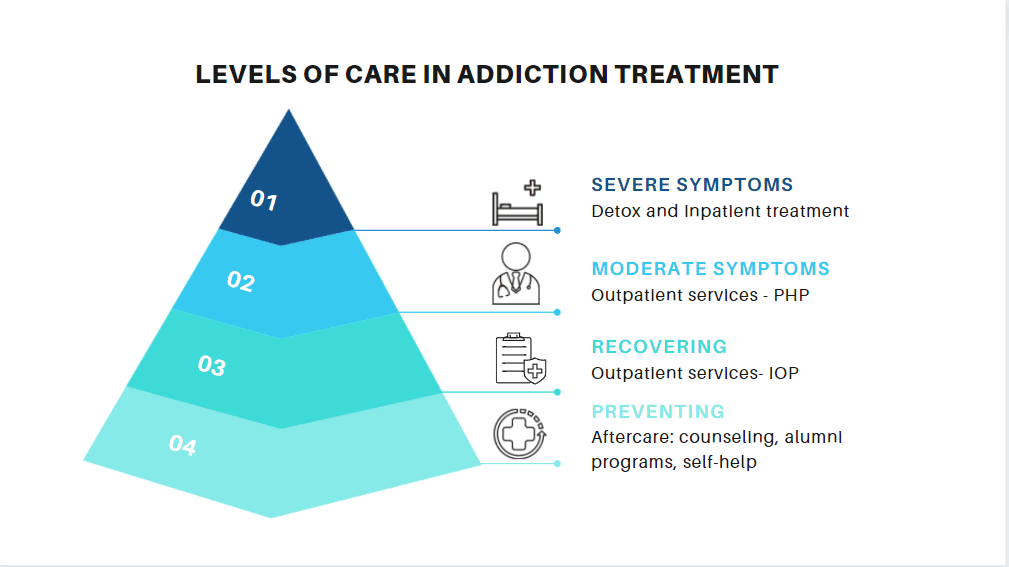 Outpatient alcoholism treatment
Outpatient treatment types offer different levels of support. In some cases, people transition from inpatient to outpatient treatment. These levels can include PHP, IOP, and counseling.
Partial hospitalization programs (PHP)
Partial hospitalization programs (PHP), the most intensive form of outpatient care, require patients to live at home while attending treatment for up to 10 hours every day, most days of the week. This is a highly supportive and structured form of outpatient treatment. It can benefit those unable to commit to an inpatient stay but still require a highly intensive level of care.
Intensive outpatient programs (IOP)
Intensive outpatient programs (IOP) is a level of outpatient treatment where patients live at home but attend treatment 3 hours per day, initially for five days per week, then with decreasing intensity. People may step down to IOP from PHP or inpatient rehabilitation. Standard outpatient treatment (OP), can vary in intensity and duration depending on patients' needs and various other factors. Standard outpatient treatment may translate to attending sessions several times per week or once a week.
Alcohol Counseling
Frequent meetings with an alcohol counselor are important for individuals to communicate and receive guidance during recovery. Counseling opens a line of communication during the good times as well as the difficult times. Your therapist will also be able to work with you on any underlying issues triggering your drinking problems, such as peers, family relationships, work or other circumstances. This will allow you to learn more about yourself and how to keep your body healthy inside and out.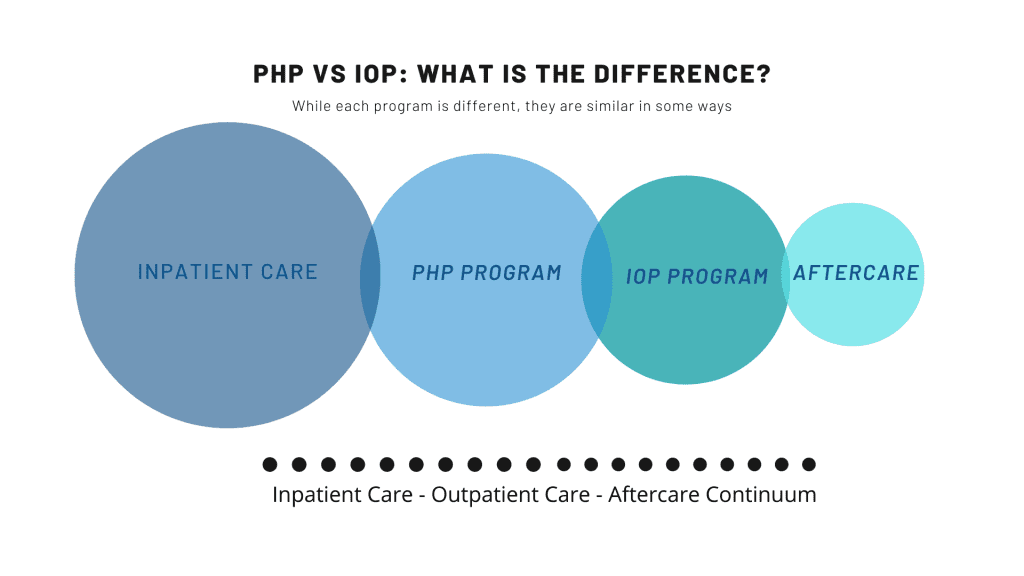 BEHAVIORAL THERAPIES FOR ALCOHOLISM
Inpatient and outpatient treatment both provide various types of behavioral therapies that are commonly used to treat alcoholism. These therapies may include:
Cognitive behavioral therapy (CBT), is an evidence-based form of therapy that focuses on helping people identify and change unhelpful, negative thoughts and behaviors that led or contributed to their addiction. In CBT, people learn healthier ways to cope with stress and develop skills they'll need to prevent relapse.
Motivational enhancement therapy is a short-term therapy designed to help patients reduce or stop drinking and encourage them to make positive changes. It helps patients identify the pros and cons of treatment, plan to change, increase their confidence, and ] develop the skills they'll need to stick to their recovery-related goals.
Marital and family counseling is a form of talk therapy that incorporates a patient's loved ones into their therapy sessions, if appropriate for a patient. Those who suffer from alcoholism often directly or indirectly impact their closest relationships. This treatment can help repair and rebuild relationships with patients' loved ones while addressing issues that may have developed due to a person's drinking. Brief alcohol interventions may include short, individual counseling sessions that provide people with personalized feedback on their progress with specific goals.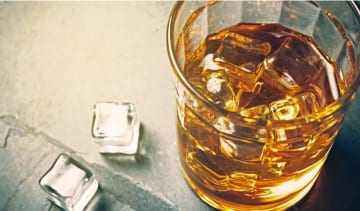 The team at  Lifescape Recovery understands that alcoholism is a powerful addiction, but we also know that with a desire to recover and the support of a high-quality, individualized treatment program, it can be overcome.  At Lifescape Recovery,  we believe that treatment should be evidence-based and holistic, and we use both treatments in group settings, as well as intensive one-on-one therapy to maximize your chance for long-term recovery. The individualized treatment model we use is designed to discover the underlying issues that caused your addiction and help you find a way out of your current life situation, and back to a life free from alcohol abuse, where you are free and in control.
Published: November 30, 2022
Last Updated: December 20, 2022